We are bespoke caterers who design each event with you, the client. We don't have set menus and fixed prices, although our sample menus will give you an idea of both.
The way we work is to sit down with you (as many times as is necessary) and tailor everything to your requirements, (including price). Serin will write menus with you and Simon will discuss the logistics of what you will need where, and when.
We aim to give you one price for your event, or a price per head. We don't like the way some caterers give you a price, but there are then lots of add ons or extras.
DINNER PARTIES
" …The food was amazing from start to finish; the service superb, quiet and very professional and your efficiency mind-blowing, especially in my small kitchen !…"
We cater for private dinner parties in your own home or chosen venue. This can be anything from a traditional three-course meal to a seven-course taster menu.
For groups of up to fourteen people, Serin and Simon manage the cooking and front of house duties between them. (Larger groups will require more members of staff.)
We serve drinks, and perhaps canapés, as your guests arrive, and then look after all your needs throughout the evening. We are able to provide crockery, cutlery, glassware and table linen if required, and leave your kitchen at least as clean and tidy as we found it!
Prices start at £30 per head plus VAT for a three-course menu.
Simpler menus can also be produced in our fully licensed kitchen and delivered for you to serve yourself.
Canape Parties
"Just to reiterate: Delicious food created under difficult circumstances, very efficient, very friendly and you couldn't have been more helpful … "
Our fully served canapé service includes waitresses, and bar staff or wine waiters if required. We can provide all glassware and any crockery and cutlery needed.
We cater for canapé parties from a dozen people to well over a hundred, and prices start from £9.50 per head plus VAT.
We are also able to provide a delivered canapé service.
Events & Weddings
"…We have to say that there has been an overwhelming amount of comments praising the menu, food and presentation. We are both delighted."
Event Catering
Event catering is what we think of as outside catering, and can include weddings, birthday parties, corporate events, to name a few.
Garden parties we can cater for fully served, 3,4 & 5-course meals, buffets or a mixture of the two.
We have as many meetings with you as are required and choose menus, place settings etc. We then come and set up the day before, or the morning of the event. The way we like to work is to run everything for you during your event so you don't have to worry or think about anything. We will then clean down after the event. We are used to catering for up to 250 people, but larger numbers are possible with the right degree of planning.
Weddings
From formal dinners to more relaxed and intimate settings, we know how important your Wedding Breakfast is. We offer a service that allows you to enjoy the day in the confident knowledge that you and your guests will be well looked after.
No matter what you choose to have – a three-course meal, a buffet, or a hog roast – we will meticulously plan your wedding celebrations with you, and manage everything on the day.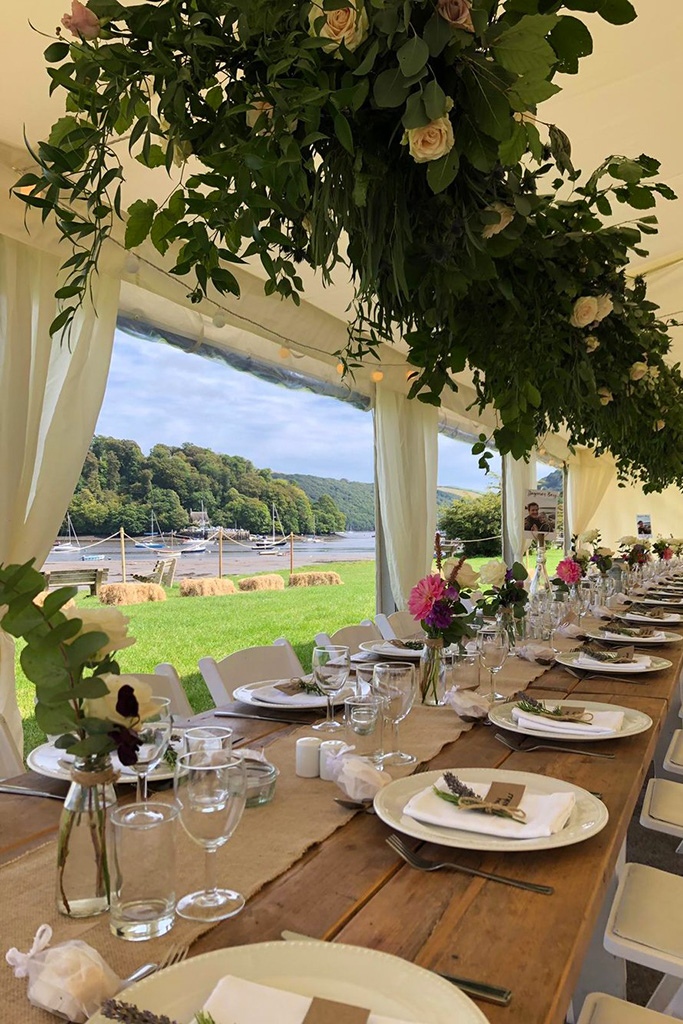 Hog Roasts
"… Thank you to you both for a wonderful dinner last night. Fulsome praise abounded about the food and it will, I am sure be reported far and wide…"
Everyone loves a hog roast and we think we do it really well. We cook whole pigs and lambs, but can also provide pork shoulders, legs of lamb and topside of beef to give you and your guests a choice.
Our hog roasts also include:
Brioche buns
Coleslaw/Asian Slaw or sage and onion stuffing
Homemade apple & cider sauce
Green salad
Any other condiments required
The price of a hog roast starts at £5 per head plus VAT. Other meats, especially lamb, will be more expensive.
Our professional equipment means we are able to cater for up to 400 people at a time.
BBQ
"… We have had so many people saying such wonderful things about the food – it was everything we had ever hoped it would be & more …". "
We love to barbeque and Simon has been known to light his over Christmas and on New Years Day.
The choices are endless; we can offer you our homemade burgers, sausages and fantastic pulled pork, marinated joints of meat, whole fish, fish parcels or brochettes, and for vegetarians – options such as grilled halloumi with roasted vegetables.
We serve these with fantastic, locally sourced, wildflower salad, homemade focaccia bread, coleslaw or Asian slaw, and our favourite – roasted charlotte new potatoes with pancetta, garlic, rosemary and thyme. Prices for a barbeque start at £15 per head plus VAT.
Paella
"…A big big thank you for all you did to help everything run smoothly, it was just great to work with you, the result was a resounding hit! …"
We produce fantastic traditional paella (chicken and shellfish) for between 20 to 100 people at your event, or in your garden.
We can, of course, make any kind of paella you wish – be it all meat, all fish or even vegetarian. We can also use two pans so you and your guests have a choice. Prices for paella start from £11.50 per head plus VAT.
Everyone loves watching the paella being made, and it adds a bit of theatre to your party.
Sample Dinner Party Menu
AMUSE
Celeriac Soup with White Truffle Oil
TO START
Seared South Coast Scallops with Celeriac Puree, Braised Red Wine Shallots, Pui Lentils, Pancetta Lardons and Pea Shoots
Or
Confit Chicken, Pulled Ham Hock & Chestnut Mushroom Terrine with Home Made Piccalilli and Organic Baby Leaves
MAIN COURSE
Rack of Devon Lamb with a Mustard and Soft Herb Crust, Fondant Potato, Wilted Greens, Red Pepper Dressing and Lamb Jus
Or
Fillet of Wild Sea Bass with a Leek and Saffron Risotto Cake, Buttered Spinach and a Parsley & Shallot Vinaigrette
DESERT
Apple Tart Tatain with Calvados Ice Cream and Caramel Sauce
Or
Hot Chocolate Fondant with Vanilla Ice Cream and Almond Tuile Biscuit
Sample Canapé List
MEAT
Mini Yorkshire Puddings with Rare Roast Beef, Horseradish Cream and Watercress
Dartmoor Quails Egg Scotch Egg with Black Pudding
Rare Roast Sirloin of Beef Rolled with Rocket, Parmesan and Truffle Oil
Pancetta, Leek and Parmesan Risotto Balls
Chicken Skewer with Ceaser dressing
Thai Marinated Chicken Skewers
Creedy Carver Duck Confit Rillet with Onion Marmalade and Cornichant
Pork and Chorizo Bon Bons
Lamb Skewers with Red Onion and Garlic with Mint Yogurt Dressing
Mini Beef Sliders with Parmesan and Rocket
Mini Pulled Pork Sliders with Asian Slaw
Marinated Figs wrapped in Parma Ham
Sample Canapé List
FISH
Manuka Smoked Salmon with a Soft Boiled Dartmoor Quails Egg and Caviar
Mini Fish and Chip Cone
Prawn and Chorizo Skewers with Aioli
Tempura Prawns with Sweet Thai Chilli Dipping Sauce
Tempura Oysters with a Mirin Dipping Sauce
Thai Style Fish Cakes
Smoked Haddock, Quails Egg Scotch Egg with Hollandaise Sauce
Scallops with Chorizo
Scallops served in shell with Garlic and White Port
Seared Tuna with Avocado, Mango and Coriander
Crab with Chilli, Red Onion, Mango, Cucumber, Coriander and Pupodum
Fresh & Frozen, Restaurant Quality Food Delivery to Dartmouth,
Kingsbridge, Salcombe & Totnes Areas
See delivery details to discover when we are in your area
MON – SUN
Available 24/7 - 7 days a week 365 days a year

Drop Us a Line
Let us know if you have any questions!